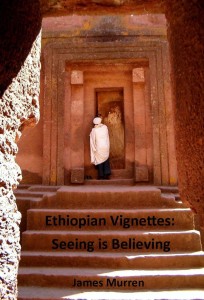 James Murren, a longtime friend of Project Gaia, has just published a book, Ethiopian Vignettes: Seeing is Believing, detailing his time in Ethiopia. This is the second book for James, who also wrote Whispers of Honduras about his experience as a Peace Corps volunteer.
Together with his wife, Cheryl O'Brien, James lived and worked in Addis Ababa for six months in 2005 and again in 2008 for another month. The pair was instrumental in setting up Project Gaia's Ethiopian sister organization, Gaia Association. "Fiona Lambe (now a research fellow at Stockholm Environment Institute) and the Gaia team in Addis — all of us — worked together in building partner networks in the country and beyond, sharing lots of frustrations and laughter," James recalls. He and Cheryl also worked with Project Gaia in Brazil and Nigeria.
During their first stint in Ethiopia, James and Cheryl travelled to the UNHCR Shimelba and Kebrebeyah camps to gain a firsthand understanding of the impact of the stoves in a humanitarian setting. "It became very clear that this intervention had immediate positive impact on human lives," he says. "How? Human and environmental security–less time spent searching for fuelwood, which is a dangerous reality in the two regions; more time for education; and clean indoor air, to name a few things."
James continued to work with Project Gaia through 2009. During this time, he was also a columnist for The Evening Sun in Hanover, Pennsylvania. His new book is a collection of columns he wrote related to Project Gaia.
"I am very grateful for my years working with Project Gaia," James says. "My experience was most-positive, despite learning of the realities of how people cook and live day-to-day in Ethiopia, Nigeria, and Brazil."
Ethiopian Vignettes: Seeing Believing is available as a paperback or as an e-book. It is available on Amazon or Smashwords.
Those interested in only the e-book version can go to Smashwords and receive 25% off using the following coupon codes for Ethiopian Vignettes (VG84M) and Whispers of Honduras (LZ75L).
50% of all paperback and e-book sales of Ethiopian Vignettes goes to Project Gaia's refugee assistance program in Ethiopia.