Women disproportionately bear the burden of firewood dependence – spending many hours exposed to household air pollution while cooking puts them at risk of chronic health problems, and the responsibility of firewood collection and cooking takes up valuable time and energy. For refugees, this is made worse as they come into conflict with local population and compete for dwindling resources, placing women at the risk of violence during firewood collection.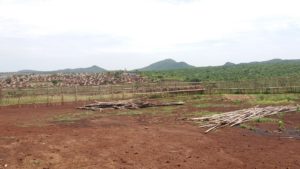 Tsore refugee camp is surrounded by protected by forests – women are allowed to collect dry wood from here
For women from South Sudan living in Tsore refugee camp in Ethiopia, the story is no different. Amy McIntosh recently travelled to Ethiopia from the UK to carry out a small research project as part of her undergraduate studies to hear from women themselves about what health problems they face from being dependent on firewood. The study aimed to explore how the ethanol stove project run by Project Gaia in the camp may make a difference to the perceived health problems faced by women.
Interviews with the women revealed the perilous journey to collect firewood from the forest surrounding the camp means risking being beaten or raped, sometimes making the journey to turn back with no firewood.
If women are successful at collecting firewood, carrying the heavy load back on their heads leads to frequent muscle and joint pain and headaches. They are forced to continue to collect firewood in pregnancy, making them more vulnerable to health problems, potentially risking the life of themselves and their unborn child and going against the advice of health professionals. Quantitative research should respond to the call of these women to investigate associations between firewood collection and musculoskeletal conditions and pregnancy.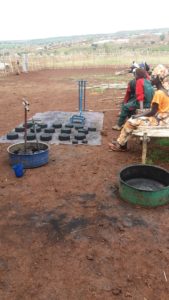 Briquettes are another fuel source that is used in the camps
Smoke exposure from cooking inside, particularly during the rainy season, blights women with frequent coughs and eye irritation, that impacts on their daily quality of life and leads to frequent trips to the health centre, placing a high resource strain on healthcare within the camp.
Families in Tsore frequently buy firewood to avoid the associated problems of collection – but when monthly cash allocations don't stretch this far, they may borrow money or be forced to face the risks of firewood collection. Sometimes, families go without firewood altogether, resulting in women being unable to cook and the family going hungry.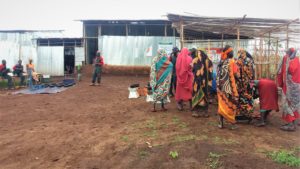 Refugees waiting to collect fuel in the Gaia camp
The ethanol stove, alongside the briquette stove also available in the camp, holds the potential to release women from this cycle of health problems by preventing the need to collect firewood and reducing smoke while cooking. Scale up of the project in Tsore by Project Gaia, creating a business model for cookstoves, holds promise to ensure that clean, safe energy is a choice that all women have the opportunity to make.