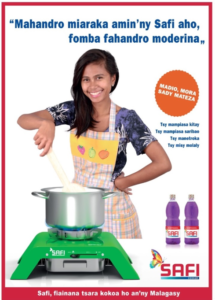 Straubing, Germany and Gettysburg, Pennsylvania, USA – Clariant, a world leader in specialty chemicals and one of the leading providers globally of cellulosic ethanol production technology, and Project Gaia, a non-profit promoting the use of alcohol fuels (ethanol and methanol) for household energy, announced the donation of approximately 24m3 of cellulosic ethanol from Clariant's pre-commercial sunliquid® plant in Straubing, Germany to a commercial ethanol cooking program in Madagascar, run by Project Gaia's partner, Clean Cooking Madagascar (CCM). The donation will provide a month's worth of cooking fuel for 1,000 Malagasy families. The Clariant cellulosic ethanol is made from agricultural residues, resulting in greenhouse gas savings of about 95% without competing with food and feed production or for arable land.
Madagascar is one of the most bio diverse countries in the world; however, it also has high rates of deforestation. Land clearance, slash and burn agriculture, wildfires, and over-harvesting of wood for charcoal and fuelwood are all to blame. While forest reserves are on the decline, the demand for fuelwood and charcoal is rising dramatically. Madagascar's population has tripled since 1950, and fuel alternatives are scarce. Low and middle income households rely on firewood, while urban households almost exclusively use charcoal for cooking. Nearly 12,000 deaths per year in Madagascar are attributed to diseases caused by kitchen smoke. Of these deaths, 10,000 are children under 5 years of age.
Ethanol cooking stoves offer a clean and sustainable alternative for household cooking. In response to this, a Norwegian carbon finance company, Green Development AS, through its local implementing entity CCM, developed the Madagascar Ethanol Stove Program to promote ethanol cooking in Madagascar, aiming to deliver 100,000 ethanol stoves in five years' time. The program also encourages the development of local ethanol supply chains through the establishment of small or micro distilleries.
Green Development is supporting these activities through the issuance of carbon credits that will be sold to the World Bank's Carbon Initiative for Development or "Ci-Dev" program, which is designed to increase access to carbon finance in developing countries. Ci-Dev is administered through the World Bank. Project Gaia is acting as an advisor to the program, consulting on ethanol micro distillery procurement and ethanol supply chain control. Project Gaia was an author of a seminal report prepared for the Government of Madagascar and the World Bank in 2011 on the opportunity for cooking with ethanol in Madagascar. This report gave rise to the National Ethanol Stove Program, which is run by the Government of Madagascar. The Green Development activities are a private sector, business-driven initiative that is closely aligned with the government's program.
The Clariant ethanol was donated to one of Project Gaia's partners named Safi SARL. They are the Madagascar division of Safi International, a bioethanol stove supplier in Africa and one of the stoves approved for the Madagascar program. Other approved stoves are the CleanCook (CLEANCOOK AB), manufactured in Durban, South Africa, and the Meca Green stove, manufactured locally. The donated ethanol will help jump start the program, since ethanol is currently in short supply in Madagascar.
Together, Clariant and Project Gaia are collaborating to bring clean cooking alternatives to households that are heavily depend on charcoal, firewood or kerosene as their fuel source. This project aims to decrease dependence on these polluting fuels by introducing ethanol as a clean and safe alternative.
Martin Mitchell, Business Development Manager Americas, commented: "Clariant is pleased to support the Project Gaia initiative in Africa with the cellulosic ethanol donation. Cellulosic ethanol is not only a sustainable household cooking and heating solution for the developing world, it is also a healthier alternative to reduce diseases caused by kitchen smoke produced from charcoal."
Harry Stokes, Executive Director of Project Gaia, stated: "We are very pleased to have this Clariant on board. By combining Clariant's expertise in second generation ethanol with Project Gaia's familiarity with African markets, we can together chart new opportunities for ethanol in Africa and particularly for the household energy market."
About Clariant
Clariant is a globally leading specialty chemicals company, based in Muttenz near Basel/Switzerland. On 31 December 2016 the company employed a total workforce of 17 442. In the financial year 2016, Clariant recorded sales of CHF 5.847 billion for its continuing businesses. The company reports in four business areas: Care Chemicals, Catalysis, Natural Resources, and Plastics & Coatings. Clariant's corporate strategy is based on five pillars: focus on innovation through R&D, add value with sustainability, reposition portfolio, intensify growth, and increase profitability. Please see: www.clariant.com.
For further information, please contact Alexandra Milano at alex.k.milano@projectgaia.com or Yvonne Reissner at yvonne.reissner@clariant.com.