November 18, 2014
Project Gaia joined 13,000 health researchers and professionals at the 2014 APHA Conference, November 15-19 in New Orleans, Louisiana.
The team had the opportunity to present the following:
Success of Alcohol Based Cooking Fuels for Reducing Household Air Pollution
Megan Graham, MPH
The presentation informed about the HAP monitoring results from the 2008-2011 Madagascar cookstove intervention study, a joint effort between Project Gaia, UC Berkeley, University of Liverpool, Tany Meva and others. The results demonstrate the potential of clean liquid fuels to meet cookstove emissions goals. Click here to access the full health component of the World Bank Madsagascar Report.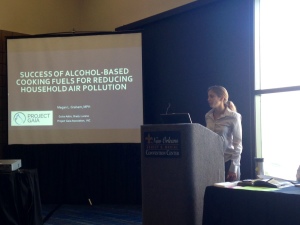 Addressing Refugee Health and Safety through Gender-Specific Interventions: Clean Ethanol Stoves Fuel as a Tool for Protection and Prevention
Gulce Askin, MPH (candidate)
The ethanol stove and fuel approach to improving health and safety for women and girls in a humanitarian setting.
New WHO Guidelines for Indoor Air Quality
The presentations timing was were just a few days after the World Health Organization released updated guidelines for indoor air quality relating to household fuel combustion. The guidelines create quantitative standards that cookstoves must meet to be labeled "clean."
The WHO Coordinator for Public Health made the below statement about the need for scale-up of modern technologies including ethanol stoves and fuel.
 "We need to scale up the use of clean fuels such as biogas, ethanol, or natural or liquefied petroleum gas with appropriate venting, as well as solar electricity solutions for lighting. And clean technologies and fuels should be priced within reach of the lowest-income households."

– Dr Carlos Dora, WHO Coordinator for Public Health, Environmental and Social Determinants of Health.
It is likely the new WHO guidelines will create a tremendous and much needed shift towards truly clean, liquid stoves and fuel.