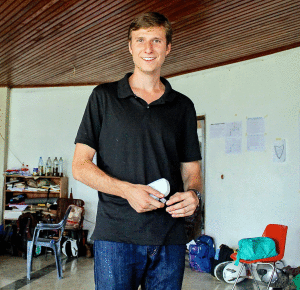 Evan Singer graduated from Gettysburg College in 2012 as a philosophy major and came to Project Gaia in June 2013, where we collaborated in writing a paper concerning climate change and cookstoves. Evan is now a community health volunteer in the Peace Corps, working with the Ministry of Health in Cameroon to reduce mortality in mothers, newborns, and children, focusing largely on malaria prevention, malnutrition, and the reduction of HIV/AIDS (with specific emphasis on mother/child transmission). He is located in the area surrounding the town of Nguelemendouka, located in the Eastern Province of Cameroon, which consists largely of dense tropical rainforest and is one of the least developed regions in the country.
Evan says that his "experience with Project Gaia has been invaluable in understanding the health concerns for mothers, children, and newborns in developing countries, especially concerning respiratory diseases that, after malaria and diarrhea, are the top killers of children under five in Cameroon." Evan gained first-hand experience with these particular health concerns within his first two months in Cameroon, having spent hours every night in an enclosed kitchen with his eyes and lungs burning from the traditional three-stone cooking fire used by the vast majority of households in the region.
During his time in-country, Evan completed a three-month research project required of all volunteers, called a Community Needs Assessment, in which he conducted key informant interviews, surveys, daily activity logs, nutrition screenings, and archival research in local medical centers. He speaks French at work and in the community, but has also started studying the local dialect, Makaa, as well as Fulfulde, which is spoken in the Muslim quarter of town. Currently, he is focusing mainly on malnutrition, working largely on projects that involve a local hospital and two medical centers, to aleviate kwashiorkor, anemia, and vitamin A deficiencies, as well as others, in the local population. He meets regularly with a women's group he organized to discuss nutrition, is supporting a giant campaign to distribute around 16 million mosquito nets, and is even in the process of starting the Eastern Provinces first mushroom spore production facility. His future projects are likely to include vaccination campaigns with the local Baka people and work with the more than 100,000 refugees in the region from the Central African Republic.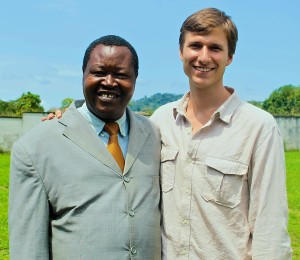 Evan hopes to conduct a pilot study for Project Gaia in his region of Cameroon and believes that this alternative form of cooking would be extremely beneficial to his community. The only limitation would be first locating a reliable source of ethanol, but there may be the possibility to ship it in from other parts of the country like Bertoua, the capital city of the region. Evan continues to work to benefit the health of those in developing countries, making us proud to have him as part of the Project Gaia Team.
By Quinn Heist