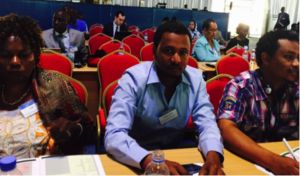 Gaia Association Director Desalegn Getaneh and Wubshet Tadele, Project Gaia's Energy and Carbon Finance Consultant, recently attended the African Carbon Forum in Kigali. The Forum, hosted by the Rwandan government and organized by partners including UN agencies, the African Development Bank, World Bank, was held June 28-30.
The Forum was a regional follow up meeting to COP21 in Paris and was intended to strengthen professional networks, partnerships and regional capacity building efforts. More than 500 climate change experts and advocates from governments, multi-national organizations, civil societies and others were present in Kigali. It served as a platform for fostering cooperation between sector experts, project implementers, government authorities and financiers.
The event proved to be a valuable experience for the Gaia team. "It was exciting to participate in the regional climate conference not only to learn and share experiences but also to contribute to the African voices on climate issues," said Wubshet. "We had the opportunity to appreciate live speeches from authorities, high-level panel discussions, calls for immediate action from African governments, trainings and climate expert networks."
The Forum echoed the sentiments of African voices, demanding urgency to deliver on old and new climate financing intended to support the African region. Participants reiterated the need for action as well as the importance of building African capacity to access global climate financing. Gaia shares in these positions and joined other African participants in calling for immediate action to tackle climate change in Africa.
For the Gaia team, the Forum also served as an opportunity to meet with regulators and partners critical to the clean cookstove and fuel dissemination program in Ethiopia. Gaia also introduced its Program of Activities to reduce emissions by displacing highly polluting cooking fuels with clean-burning ethanol.
The Gaia team left the Forum feeling optimistic. "We were happy to hear about the latest developments on global climate negotiations and new commitments. It was encouraging to learn about the potential opportunity from the Green Climate Fund, which is working to mobilize $100 billion by 2020. This is a potential major opportunity we Africans need to build capacity for and utilize for climate change mitigation and adaptation," Wubshet said.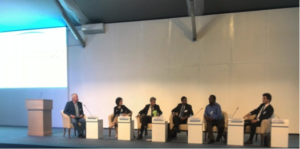 Desalegn Getaneh noted Gaia's historic agreement with the UNHCR that captures carbon savings from clean-burning stoves in the refugee camps in Ethiopia and monetizes this as carbon finance for additional sustainable energy solutions in the camps. "We hope that the progress made at COP21 will help us do our job in the camps and provide us with more resources for our work. If we can move the camps away from fuelwood to clean-burning, domestically produced ethanol, and help the UNHCR move from business-as-usual to low carbon alternatives, this will benefit not only the refugees, and not only Ethiopia, but also the world, in so far as the fragile dryland forests of East Africa can be regenerated and preserved. It will also reduce the amount of black carbon dumped into the air, which may deposit as far away as the Himalayas or Antarctica."