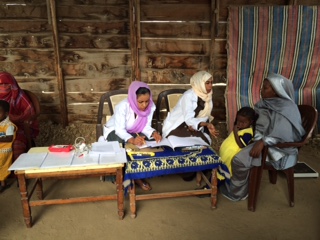 Since our founding, Project Gaia has worked hard to clean up household air. The smoke from biomass stoves is responsible for four million deaths each year, 500,000 of which are from childhood pneumonia alone. Pediatrician Dr. Stuart Warren was part of our early efforts to document Household Air Pollution (HAP) in the Jijiga refugee camps and continues to work today towards developing better methods to study HAP exposure.
Recently, Dr. Warren and his college Dr. Alawia Suliman of the Milton S. Hershey Penn State Children's Hospital carried out an HAP study in Port Sudan, Sudan. The goal of this research was to determine whether the Masimo Rad 57 CO-oximeter could provide significant readings of carbon monoxide levels for women who cook with biomass fuels in poorly ventilated dwellings.
The CO-oximeter is a simple instrument with a sensor that slips on a finger and measures oxygen and carbon monoxide levels. Prior to this study, HAP exposure has been measured by instruments in dwellings or on women's clothing that measure the toxic products of biomass fuel combustion including carbon monoxide, sulfur dioxide and particulate matter. This method of measuring exposure is often cumbersome, does not permit study of large numbers of subjects, and ultimately does not provide any biomarker data (CO levels in blood) which could explain the health related effects of HAP exposure.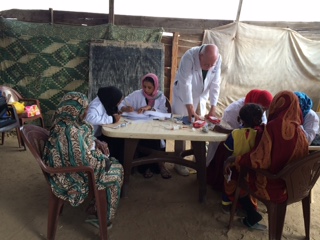 The study enrolled more than 300 women who cooked with biomass fuels or LPG. Preliminary analysis of the data suggests that carbon monoxide levels demonstrate the amount of HAP exposure experienced by the study subjects. The carbon monoxide levels of women in the biomass fuel group were approximately twice that of the women who cook with gas. The women who cooked with biomass fuels and had higher CO levels reported low birthweight infants, miscarriages, and treatment for lung infections more frequently than women who cooked with gas.
Dr. Warren and Dr. Suliman believe, when the data is fully analyzed, the biomarker data will support the study of larger populations using the CO-oximeter and replace the current modes of measuring exposure.
Please contact us if you'd like to learn more about the study, or get in touch with Drs. Warren and Suliman at leria1(at)comcast.net.