Meet Nick Lorenz, our December extern at Project Gaia.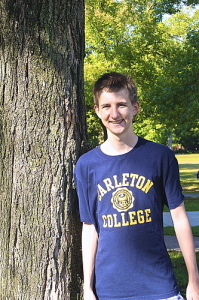 Nick is a sophomore at Carleton College in Northfield, Minnesota. He studies Arabic and plans on majoring in International Relations. This past summer, Nick taught English to middle school children in a remote village in Burma/Myanmar. In addition to teaching, Nick researched the villagers' livelihoods and cooking habits for Project Gaia. "This experience was an incredible one," Nick said. "I loved getting to interact with people from entirely different backgrounds from myself. My experience this summer really confirmed my interest in potentially working in the field of international development."
Nick will be with us at the Project Gaia Headquarters for two weeks this December. He is assisting with several projects in the office and is currently focusing on putting together a series of blog posts about PGI's work in the Jijiga refugee camps of Ethiopia. "It has only been four days here, yet I already feel I have learned so much." Nick shared. "It is so exciting to both learn about and be a part of making a difference in the world."
We are excited to have Nick join the team this month. Stay tuned for his blog posts!