As a part of our new "Meet the Team" series, we got back in touch with Alyssa Bosold, a former Project Gaia intern who carried out a household energy research project and small ethanol stove and fuel pilot in Vietnam in 2012.
Read below about how issues of household energy are empowering young people to take action in local and global communities.
---
PGI: Tell us about what initially got you interested in household energy issues in Vietnam.
AB: At Gettysburg College, I was an Environmental Studies and Globalization Studies major with a minor in Women, Gender, and Sexuality Studies.
I remember hearing PGI present in one of my environmental studies classes. PGI discussed household energy issues, the negative impacts of indoor air pollution on women in particular, and the economic, health, and environmental benefits of ethanol stoves. I remember thinking that household energy was not only at the nexus of my interests, but connected to key social and environmental issues including global climate change, gender inequality, and global health and development.
I heard PGI's presentation the semester before I planned to study abroad in Vietnam. I connected with PGI before I left for Vietnam, and wanted to find a way to incorporate household energy into my studies there. PGI worked with me to develop an Independent study focused on comparing wood stoves and fuels with biogas and ethanol cooking methods.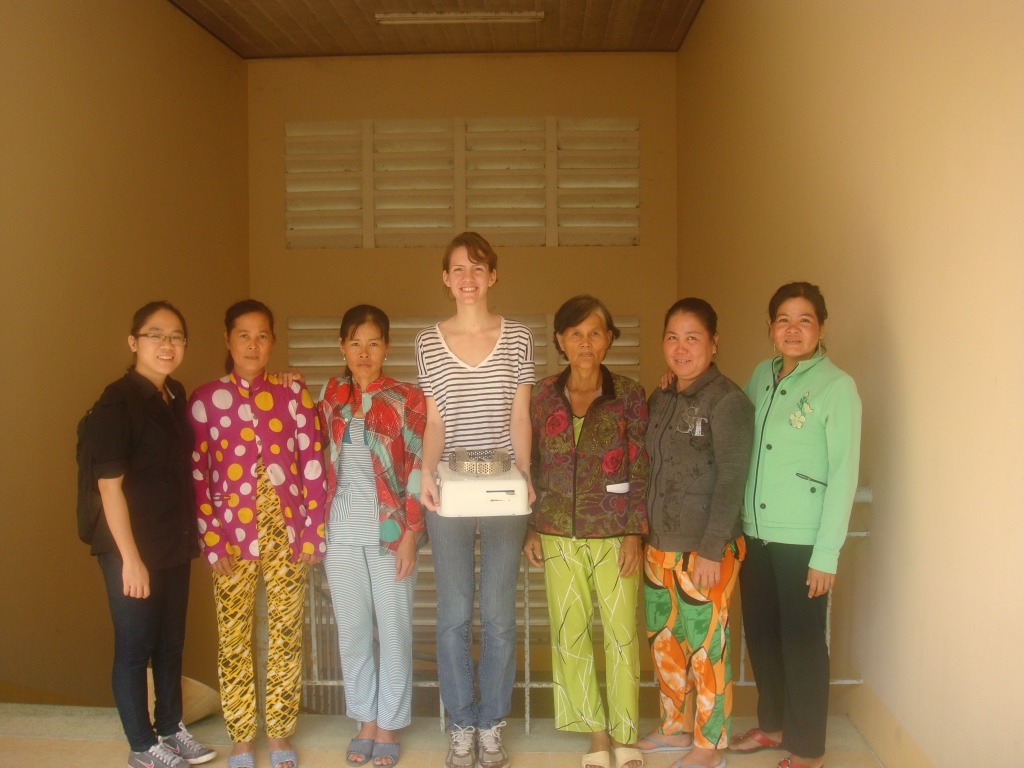 ---
PGI: What is the most important thing you learned or took away from your experience in Vietnam? What questions were you able to answer?
AB: This is a difficult question, because my experience in Vietnam taught me so many important things, and had a tremendous impact on my worldview.
I conducted my research in a rural hamlet called Xeo Tram. While I was there, I organized focus groups, held in-depth interviews, and cooked meals with five women and their families using ethanol, wood and biogas. The experience gave me first-hand exposure to the challenges associated with woodstove cooking. I connected with women who suffered the negative health impacts of indoor air pollution, simply because they could not afford or access clean stoves and fuel.
While the experience opened my eyes to the discouraging realities of health disparity, it also left me feeling optimistic about the future of household energy. While working in Xeo Tram, I experienced unmatched hospitality, and enthusiasm about the potential for improved fuel options. I learned by talking with the women of Xeo Tram Hamlet, that manure-fueled biogas stoves were already complimenting woodstove cooking in pig farming households. I also realized the potential for ethanol to become a viable and marketable fuel option, that would be readily adopted as a cooking method by both biogas and woodstove users.
Overall, while I witnessed the ways that socio-economic status can negatively impact health, I also saw the positive impacts that public health research and programs like PGI can make in people's lives.
I received tremendous support from Giang Linh Tran, my translator, who helped make the research possible.
PGI: Tell us about what you did following your internship with Project Gaia.
My internship with PGI and my time in Vietnam gave me valuable research experience and practical understanding that led me down my current career path.
After graduating from Gettysburg College, I served for eight months with AmeriCorps on the Blackfeet Reservation in Browning, Montana. Specifically, I wrote grants to fund the Blackfeet Teen Pregnancy/Parenting Coalition, and worked to support teen parents, encourage healthy pregnancies, and promote safe-sex education.
I jut recently accepted my next position as a Public Health Associate Program Fellow with the Center for Disease Control. I will be focused on TB and STD prevention in Fort Lauderdale, FL.
PGI: What is your next in store for you?
AB: I hope to continue working in the field of public health, ideally focusing on environmental and women's health across the globe. I would like to pursue my MPH in the coming years, and could definitely see myself returning to Vietnam to continue researching and addressing household energy issues.
By Gülce Askin