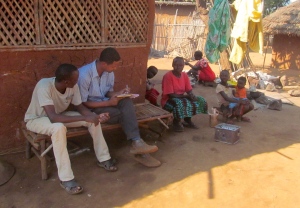 Project Gaia, Inc. (PGI) has been working with its sister organization, Gaia Association (Gaia), on diverse projects for over a decade. I recently had the chance to talk with Dereje Petros, the Project Coordinator at Gaia, about this relationship, his time working in the Jijiga refugee camps, and his position now in Gaia's main office.
Gaia Associations is registered as an independent organization in Ethiopia. Gaia partners frequently with PGI who provides funding as well as technical support for the multimillion-dollar projects that Gaia implements. They also work closely with the United Nations High Commissioner for Refugees (UNHCR) as an implementing partner.
Dereje started his work with Gaia in the Jijiga refugee camps. He reflects that, "limited life options due to the harsh climate and exhaustive and physical work conditions are the most challenging part of camp life for the refugees." For Dereje, "the experience of practical project implementation" has been the most rewarding part of working in the camps. This is Gaia's and PGI's flagship project and one of their most successful joint ventures to date.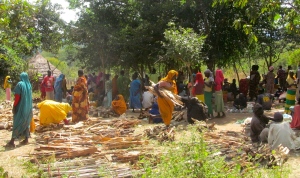 After his work in the camps, Dereje moved to the Gaia Association headquarters in Addis Ababa to manage and oversee projects. He is responsible for coordinating the resources to make them happen and for preparing progress reports on the various projects. While still monitoring developments in the camps, he is now involved with installing an ethanol microdistillery in Addis Ababa. This distillery, the first of its kind, will produce 1,000 liters of ethanol per day. This will benefit the women of the FWFCA, who will be able to use ethanol instead of wood for cooking. The biggest challenge that the team is facing is figuring out how they can provide sustainable power and electricity for this distillery. They are hopeful that provisions for electricity and the distillery will be completed in the near future, even as soon as the end of this year.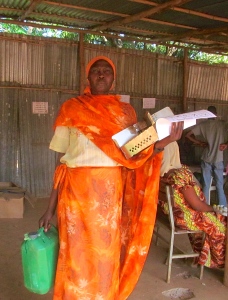 In addition to the new microdistillery and monitoring other camps, Gaia has recently begun stove pilot studies in new refugee camps. Dereje went to the Sherkole refugee camp in Western Ethiopia in order to both demonstrate and distribute the stoves and fuel. He described his impression of this camp in comparison to the Jijiga camps where Gaia currently works. He noted that, "In terms of lifestyle refugees have identical experiences. They live in plastic houses, have a limited amount of rations to survive the month, and tell of a horrifying life experience from their motherland." However he observes that unlike the Jijiga refugee camps which house refugees from Somalia, "Sherkole is a refugee camp with a heterogeneous socio-cultural set up. At Sherkole, there are refugees from South Sudan, Rwanda, Uganda, Burundi, DRC, Liberia and the Ivory Coast. So far, the pilot studies at the Sherkole camp were largely successful, and the Gaia and PGI teams looking forward to getting more feedback in the coming year.
A huge thanks to Dereje for making this post possible!
By Nick Lorenz